Our abatement team is composed of a very high level & professional individuals who are exceptionally passionate about the art of falconry. Each individual team member has his/her own finely selected crew of raptors that they have extensively trained and are currently working with.
Rebecca Butcher
Rebecca Butcher has worked with a wide variety of raptors from Stellar's sea eagles, Bald and golden eagles to the smallest of the raptors such as the American Kestrel and Sharp Shinned Hawk. Her brilliant knowledge of predator/pray relationship along with the diversity of raptors she has handled allow her to tailor our falconry services to a wide range of clients. Her energy and enthusiasm for the sport of falconry has always impressed her audiences.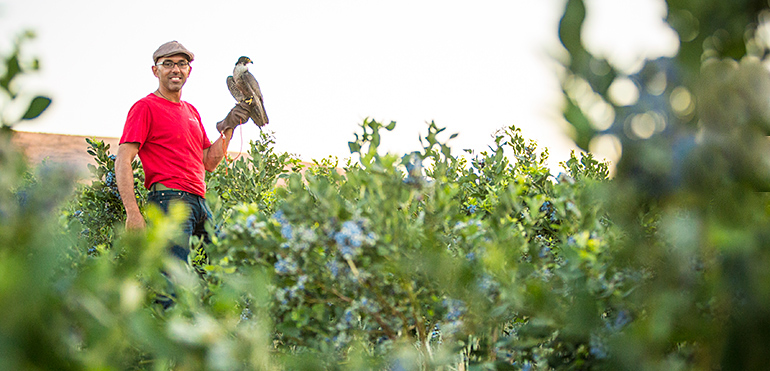 Vahé Alaverdian
Vahé Alaverdian graduated from Art Center College of Design with a Bachelor of Fine Arts degree in photography. After running a successful Los Angeles based commercial photography studio for fourteen years, Alaverdian founded Falcon Force in pursuit of a dream-career in professional falconry. Alaverdian's vision of combining his passion of falconry with his commercial background became the benchmark and the driving strength of the Falcon Force triumph.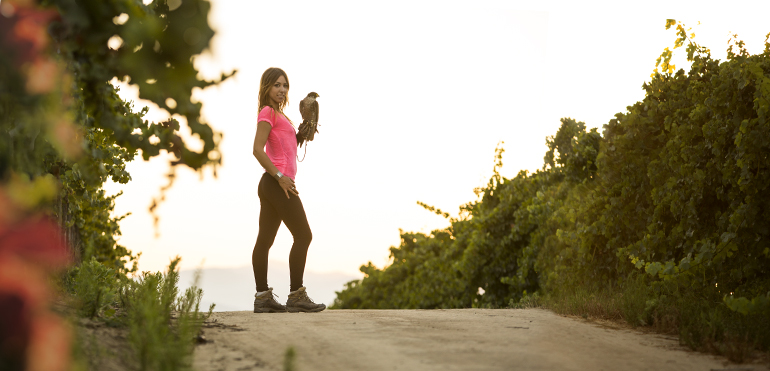 Kalen Pearson
Kalen has indulged in training horses since the age of thirteen. Her keen interest in animal training and behavior soon led her to start working with various exotic animals, including wolves, zebras, camels, emus, owls and eventually raptors. She began her journey into falconry at the age of nineteen, flying gyrfalcons and peregrine falcons exclusively. A few years later, she followed her heart into a career as a professional falconer–she has been protecting crops, and executing high-risk abatement assignments such as refineries, airports and transfer stations. Her extraordinary and perceptive knowledge of animal behavior has made her a very prominent member of the Falcon Force team.
Conor Bucalo
Conor Bucalo has been working with raptors since he was 11 years old and has extensive experience with raptor propagation including artificial insemination, incubation, and raising young birds. His open-mindedness, uncanny ability to problem solve diverse situations, and willingness to try new training methods allows him to overcome the most difficult of pest control situations.
Holly Ackerman
Holly Ackerman has been working with birds of prey for three years and has been involved in avian propagation for over ten years. She has volunteered at Point Defiance Zoo and Aquarium as an animal interpreter for four years. Holly graduated from the University of Washington with a Bachelor's degree in Sociology where she gained her extensive knowledge about the importance of conservation and sustainable green living.
Deann Gunter
After spending more than 15 years in the aerospace industry, Deann Gunter is finally making a living with her dream occupation–working with birds of prey. A licensed falconer for the past 5 years, Deann has worked with several different species of raptors and has successfully completed various types of bird abatement assignments. She recently joined the Falcon Force team to further advance her experience in the bird abatement industry, and collaborate with the fastest growing bird abatement company.
Charles Gailband
Charles Gailband joins our abatement efforts after twenty five years in the zoological industry where he worked with penguins, raptors, and almost everything in between. He has worked with endangered species recovery programs and curated a variety of avian collections. He has helped refine abatement/hazing techniques and given presentations on best practices to State and Federal agencies. Charles' commitment to excellent customer service and knowledge of bird behavior helps deliver the best results and client satisfaction.
Lara Webster
Lara Webster has worked with birds of prey for nine years, at eleven she started volunteering for a raptor rehab center where she learned to train and work with a variety of hawks, falcons, owls and eagles. Currently Lara is pursuing her biology undergrad degree at the University of Puget Sound. Lara is a great asset to the Falcon Force team, her experience as a falconer, rehabber and educator makes her a very vital member of our fine league.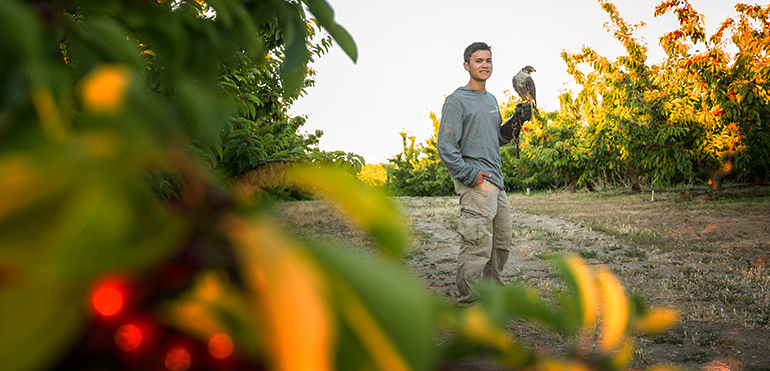 Joseph Pravongviengkham
Joseph is the youngest membr of our team, at 18 he is also the youngest member of Falcon Force. His experience as a veterinarian tech brings a new dimension to our team of working raptors. Joseph has immense ambitions and is currently attending college to obtain a higher degree of education.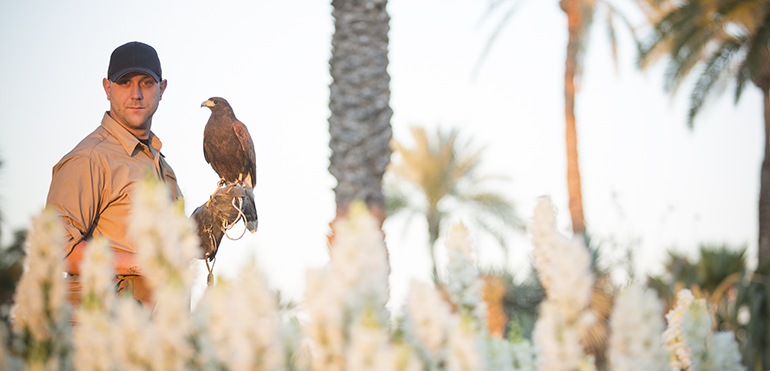 Roman Roek
Roman has dedicated himself to "protecting the good from the bad guys." After eight years in law enforcement, his lifelong passion for falconry drew him into bird abatement where the concept is the same. Protecting wildlife has also led to Roman pursuing his bachelors degree in Wildlife Conservation from ASU. An avid outdoors-man and conservationist, he brings well-rounded experience and knowledge to the team.
Katherine Fintzy
All it took was a trip to Ireland, one recreational hawk-walk, and Katherine changed her entire life to pursue work with raptors. After returning to the States, she started in the field of raptor rehabilitation and education, and naturally transitioned to the art of falconry. Katherine believes that a symbiotic relationship with these birds can naturally enhance both business and personal prosperity.